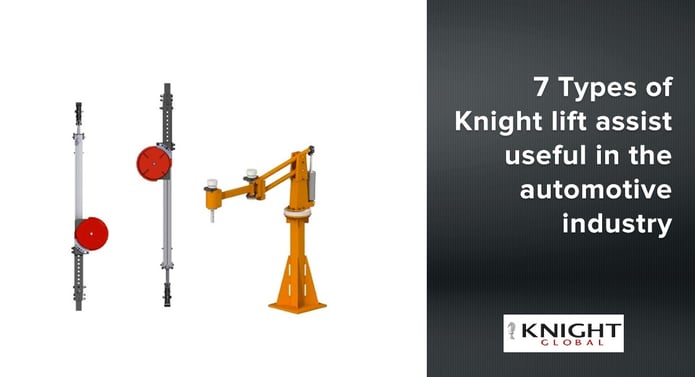 Knight Global designs tools in accordance with different manufacturing partners. Our engineers work in unison with our customers, creating system layouts which conform to the specifications of each individual facility.
In this article we share the different series of Lift Assist that Knight offers its customers.
Knight Global Specialty Products
Knight Global builds tools using existing technology to meet the special needs and tasks of our customers. Specializes in custom elevators and lifting devices to promote ergonomic handling care for industrial plants.
Also designs and builds an assortment of assisted lifting devices to fit any application based on a detailed analysis of customer material handling needs.
Types of Industrial lift assists
Some of the benefits of these excellent self-directed equipments are:
1. End effectors / Auxiliary Devices
Customized to fit any possible application. We will help you choose the right end effector that best fits your application based on a detailed analysis of your material handling needs to adapt the correct assistance device.


2. Pneumatic / Extension / Servo / Vertical Arms
Knight pneumatic lift assist arms have servo and vertical extension varieties. They use a parallelogram structure that articulates in the vertical planes. This design allows the vertical positioning of an end effector , keeping the operator in an ergonomic position of comfort.


Knight Global offers a wide range of arms, capabilities and configurations to handle a wide variety of tools.

Pneumatic lifting devices

Extension Arms
Vertical arms
Download our [ Global Knight Catalog ]

3. Torque Tubes
Knight torque tubes are designed to absorb the torque reaction produced by the assembly tools and clamping devices while helping to balance the weight of the tools and reduce operator fatigue. Knight torque tubes use zero gravity tool balancing technology. Custom applications are available on request:


ATA1550-15 Light work spring balancer
ATA1550-25 Heavy duty spring balancer


4. Tractors (Air / Electric / Servo)
Knight tractors lift, tow, and locate a load in the X, Y, and Z directions with efficiency. They allow you to carry the load or accessory to the next position and return home automatically. These tractors have programmable speed settings with acceleration and deceleration points (electric and servo only). They are available in pneumatic, electric and servo configurations:


Air tractors for non-lubricated engines
Servo "X" with control "Z"
Servo "Y" with control "Z"
Servo "X / Y" with control "Z"
Servo "XX / Y" with control "Z"
5. Quick-Build Connectors
They are modular systems of steel / aluminum connectors and tubes used to create custom workstations with their fixtures. The design of these fast-build connectors allows quick assembly without the need for welding or fastening. Knight Global can design and build a Work Center, Trolley or Fixture according to your specific application.
6. Ergo Positioner
The Knight Global Ergo Positioning System is a pneumatically operated pivot locking system that allows the workpiece to fit the comfort level of each operator. Who can manually adjust the height of the piece using the vertical rail adjusting handle to raise or lower it to a comfortable working level, and fitting large casting or unmanageable parts with the pedal. It has two pneumatically operated pedals to lock and release the piece in multiple positions.


The Ergo Positioner can be pivoted and locked in any position. The parts mounting plates can be easily changed to work with other parts.

You may also be interested...
Different Types of Knight Automotive Manipulators
7. Ergonomic seat systems
Knight ergonomic lift assist system consists of a roof-mounted mobile workstation that helps an operator maintain an ergonomic position while performing various tasks in extremely demanding manufacturing or maintenance environments. The ergonomic seat allows the operator to remain in a seated position and move effortlessly between different workstations and hard-to-reach work areas.


Knight's ergonomic seating system is available in various configurations that are mounted on a single or double overhead airlift. Each ergonomic chair is designed to meet specific application requirements for fitting, rotating, accessories and safety equipment.
We hope this article will be useful for you to know more about the different lines of Lift Assist equipment that comprise the Knight Global products.
Topics: Knight Global