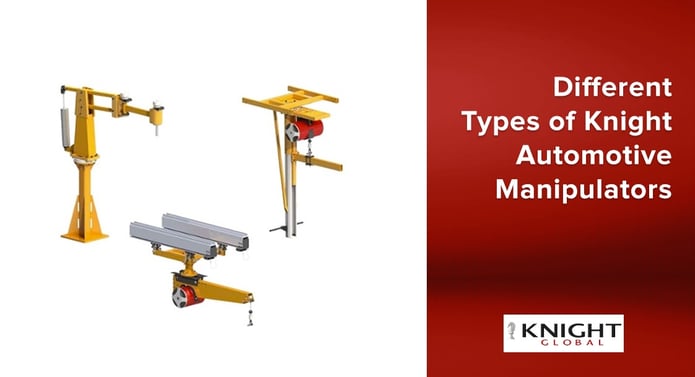 Knight's various series of automotive industrial manipulators provide a wide variety of configurations to lift, rotate, balance, move and transfer products to and from conveyors, dunnage, stowage, assembly lines and much more.
Knight industrial robotic arms allow the positioning of an end effector or device within a specified work cell or typical work area using workstation cranes.
In this article we will talk about the different types of Knight manipulators that exist, their characteristics and usage.
Advantages of Knight Automotive Manipulators
These Knight manipulators have multiple advantages for your processes, including:
Excellent ergonomics
It is not necessary for the operator to bend down to take pieces from the floor.
In some processes it is very uncomfortable placing parts over the product manually and the manipulator facilitates this task.
The manipulators are manual but they facilitate and allow the piece to rotate for positioning. For example, the glass of a car that sometimes requires a 180 ° turn to be placed.
With the manipulator a single person can install doors, hood, , crystals, tires, seats, boards, etc.
Better manufacturing quality
Parts are taken from the permitted part for safety.
Collisions are avoided when transfering a piece.
You can have guides for the installation process of each part of the product so that the piece is always placed in the same right place as many times where you are going to place it.
This allows the process standardization.
Faster production is achieved.
Safety Process is Increased
Parts are prevented from falling or going out of control to the operator.
Accidents with personnel are avoided.
Integrity of the parts is safeguarded.
Download our [ Global Knight Catalog ]

Knight Manipulators Applications
Some of the uses for these excellent equipment in the industry are:


Excellent for moving any piece that exceeds 30 kilograms and its positioning access is complex.
To move very large equipment that is not possible to handle by a single person.
Handling of those parts that due to their repeatability the operator requires an ergonomic aid when handling them.
In the metalworking industry, to move any sharp, heavy parts or any process that requires to place parts in a machine at high temperatures.
In the foundry industry to carry out hot parts.
In the pharmaceutical industry to transport boxes with medicines.
Different Types of Knight Automotive Manipulators
We share the different line of Knight manipulators that we market:
Pneumatic Arms
Knight pneumatic arms use a parallelogram structure that articulates in the vertical planes. This design allows the vertical positioning of a fixture or end effector.
Pneumatic arms are used to lift, rotate, balance, move and transfer products to and from conveyors, stowage, assembly lines and more.
Settings
Light work

Medium type Jobs

Heavy task

Balancer Series

Servo Series

Pedestal mounted on the floor

Mounted on a car
Extension Arms
Knight extension arms provide extended range in a specified work cell. They allow the operator to extend beyond the working limits of a railway system. A Knight pneumatic balancer or servo elevator is mounted on the lifting arm and lowers the load.
Maximum lifting capacity up to 700 lbs. [317.5kg] (pneumatic balancer model)

Maximum lifting capacity up to 1000 lbs. [453.5kg] (Servo Hoist model)

Settings
Single and double bridge configurations (Balancer / Servo model).

Pedestal mounting (Servo Hoist model only).



You may also be interested...
7 Types of Knight lift assist for the automotive industry
Servo lift arms
Servo Arms incorporates Intelligent Assistance Device (IAD) technology into various arm configurations to provide controlled transfers of workloads for every possible situation.

Knight servo arms are available in the Articulating, Extension, Extension Boom and Vertical Arm configurations. They can be mounted on a single bridge, swivel cart, fixed carriage and pedestal mounted on the floor.


Maximum lifting capacity: Up to 2,000 lbs [907 kg].

Maximum travel speeds up to 200 fpm.
Settings
Articulation

Extension

Extension boom

Vertical
Pedestal mounted on the floor
Vertical Mast Arms
The Knight vertical mast arms allow the extreme tooling to be mounted on a rigid vertical mast. Vertical displacement is achieved with a Knight pneumatic balancer, servo lift, pneumatic cylinder or chain lift. Vertical mast arms are typically used in applications that require significant up / down travel and precision placement.
Maximum lifting capacity: up to 500 lbs. [226 kg].
(Direct Loads - Pneumatic Balancer Model Shown).
Maximum lifting capacity: up to 500 lbs. [226kg] - 1,000 lbs. [454 kg].
(Offset / Cantilevered Loads - Not Shown).
Maximum lifting capacity: up to 1,500 lbs. [680kg] Reeved.
(Offset / Cantilevered Loads - Servo Model Shown).
Settings
Balancer Series

Servo Series

Pedestal mounted on the floor

Mounted over the car
We hope this article will be useful for you to learn about the different and excellent lines of automotive manipulators from Knight Global for your heavy load handling applications in the industry.
Topics: Knight Global