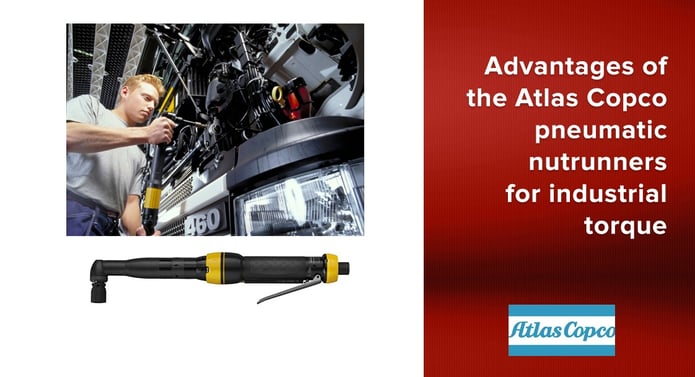 Atlas Copco tools & assembly systems llc has an excellent line of pneumatic tools, among them we can find a wide variety of pneumatic nutrunners, which offer a unique combination of power, speed and precision to increase operator productivity.

These equipments comply with Atlas Copco's reputation for developing tools with good ergonomics, which makes this line an excellent choice for your assembly processes.

In this article we will talk about the characteristics of these equipments, its advantages and our available models that will help you have a reliable tool that will allow you to increase your productivity.
Advantages of the Atlas Copco tools and Assembly Pneumatic Screwdrivers

One of the great challenges when using a device of this type is to achieve a precise torque and that the equipment is comfortable to operate for the user when working in the assembly operations.
Here we share the benefits of working with this excellent line of atlas copco and assembly hand tools:
The tools are adjusted at an optimum speed to achieve excellent torque capacity.


The balance between speed and clutch response provides high accuracy.


Its high power increases productivity as it increases the overall performance of the operator and the tool.


It guarantees the repeatability of the torque during torque tasks, independently of the characteristics of the joints with which it is worked.


Low weight and thermally insulated cuffs help reduce operator fatigue.


This tool generates low levels of noise and vibration during its operation.


With a very simple selection and installation process it requires adjusting the torque one time only.


Atlas Copco angle nut loaders are certified by leading car manufacturers to provide high torque accuracy and long life.



For remote indication of the clutch release function the tools can be equipped

with an air signal output.



Download our [ Atlas Copco Torque Catalog ]

Characteristics of our Pneumatic Torque Nut Drivers
Here we share the most representative features and benefits of our series of Atlas Copco pneumatic screwdrivers:


1. Atlas Copco Angle nutrunners
These equipment are certified by automotive manufacturers so its durability is assured.

LTV29-2 Series: Provides high torque speeds with a slim and compact design with a comfortable grip for the user.

LTV39-2 Series: It is the fastest model of its kind thanks to its powerful motor, it has high precision and high ergonomics.

LTV FS Flush Series: With excellent access in small areas and high accuracy.

LTV28 and 38 series: Great reliability in the adjustment of type M5-M12 screws and spiral cutting gears.

LTV48 Series: Robust and reliable tool, ideal for pairs up to 200 Nm

LTV69 Series: It has a twin engine that provides a greater speed of reduction and an extremely accurate adjustment.

LTV HAD: Designed for mounting shock absorbers and break screws, Hi Lok / Hi Shear.

Ratchet Wrenches: Ideal tool for space applications limited by its excellent accessibility.
You may also be interested...
Types of Atlas Copco Pneumatic Assembly Tools

2. Atlas Copco Straight screwdrivers

They offer a low cost solution for different applications of advanced torque in addition to an excellent weight / power rate.

LTD 28, 38 and 48 tightening nut: With a precise final adjustment, they offer high productivity.



3.Gun-type Nutrunners with handle
This type of nutrunner provides the highest torque and speed in relation to the weight of the tool and are available in reversible versions for maximum flexibility.

LMP61 Series: With a twin engine for faster production and greater precision with minimal air consumption.

LTP with multitorque selector: With different levels of torsion without the need for tool changes.


With their advanced ergonomic designs, these tools are extremely easy to use and contribute to increase productivity in a wide range of applications in your assembly plant. Check our Atlas copco tools and assembly Pneumatic tools catalogue.
Topics: Atlas Copco